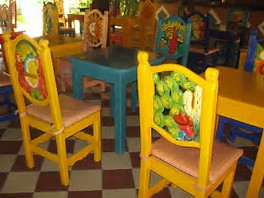 You can buy all kinds of furniture in Mexico. You'll find basic and high-end furniture and everything in between, depending on what you want. There are so many furniture stores in Mazatlán that offer whatever you want. Fifteen years ago, furniture stores were few and very far in between. Now, you can find a lot of nice furniture in Mazatlán.
I just bought a large reclining massage chair here in Mazatlán which was made in the US. Furniture in Mexico is much cheaper than what you'd find in Canada. The same large reclining massage chair in Canada would have cost me CA $6,000 -7,000 (US $4,500 - $5,200), but in Mazatlán, it only cost CA $3,000 (US $2,200).
Mexico does have Mexican brand furniture which is very nice. There is some very good furniture made in Mexico. Most of the time, whenever we want to purchase furniture, we go to the store and we don't really ask where it's made.
Fifteen years ago when we bought our first condo, we had custom-made furniture because it was so hard trying to find good furniture back then. We had our bed, couch, table, etc. made in Mexico fifteen years ago and it cost a fraction of what it would have cost in Canada. Now, here in Mazatlán you can find any kind of furniture you can imagine.
(Carved Mexican dining room chairs, pictured.)
Posted August 10, 2017