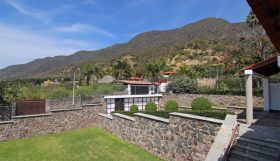 In Mexico, there aren't many homeowners who insure their homes because there are really no fires. I guess we could have earthquakes in Mexico, but people typically self-insure. Home insurance is an American and Canadian thing. A typical Mexican would say, "Why do I need insurance? My house probably won't burn down, and if somebody comes and steals my TV, I'll just buy a new one- there's the cost of the insurance."
Earthquakes can turn your home to rubble, but I tell you, I have lived through several earthquakes here in Chapala. The odds of anything happening, I just find very minimal. Yes, how unfortunate it would be if after just investing US $300,000 – US $400,000 in my home, and it turns to rubble. That would be a terrible, terrible thing. But the odds of that happening are very low.
There are landslides in Mexico, too, and that would be an issue. As an example, in the Raquet Club (a sub-division in San Juan Cosala), there was a massive amount of rain and the mountainside came down and filled their pool and their house completely with rocks & dirt. They were lucky to have gotten out safely. They couldn't even drive their car, it happened so fast. It took them a year to clean everything out, after that, there was no damage to the structure of the house, and once they emptied the pool of the rocks, they repainted and filled it with water. Everything went back to normal.
In Chapala, we also have waterspouts that can make their way up the mountainside. It happened to my house years ago. The water spout picked up the water from the lake, and started up the hillside and let go. It dropped a lot of water, washing the dirt and the rocks down the hillside, knocking down our back wall. The gardener happened to be there, so he opened the front door of the house so the mud and water went down through the living room, down the stairs, down on the terrace and it just kept flowing out and bringing some of the furniture with it. It was cleaned it up, and no problem.
I've lived in Chapala long enough that my attitude is taking on the Mexicans' "life still goes on" attitude. When someone comes in and they steal your furniture and your jewelry, your life is still the same. You don't have those diamond earrings anymore, but your life doesn't really change, so why would I pay insurance to protect those things? Mexicans are not very materialistic, so they really don't care about that stuff. That's their attitude.
For Mexicans, you have to take responsibility for what you did. It's hard to sue people here for tripping or falling on their property because they take responsibility here. You put your face through a box window, well, you should've been careful. That's the attitude of the Mexicans.
If there were ever a lawsuit, the judge may say something like, "Prove to me why it was his fault that you fell down and tripped on his porch."
"Well, he didn't clean the ice."
"You should've walked around the ice."
In Mexico, liability issues are extremely rare.
(House in the hills of the Raquet Club, near Ajijic, Mexico, pictured.)
Posted March 20, 2017