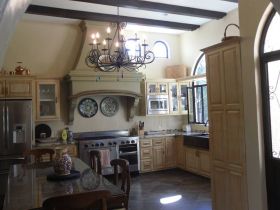 I don't have the exact amount of homeowner's insurance in Mexico because not everybody has homeowner's insurance here in Mexico. Having homeowner's insurance depends on the value of your property. If you have an expensive property then you had better have one.
A few years ago, we had terrible rains and we had a big cloud above the lake that took a lot of water. When it was so heavy, it rained all the water in the mountain. There was a house that took a lot of rainwater. It took all the furniture and destroyed the house by 80%. It was a total loss and the house had no insurance. It is important to have homeowner's insurance.
Very few people get homeowner's insurance because you look at the homes here in Mexico, they are built out of brick so people do not worry about the home burning down because there is very little wood in the home. But fire can start from the things in the house. It doesn't have to be the stove. It could be an issue on the electrical wirings. Once it creates a spark it could go to your couch or curtains and then the fire starts. This is why it is better to have homeowner's insurance.
(Kitchen in Lake Chapala, Mexico, pictured.)
Posted October 16, 2016