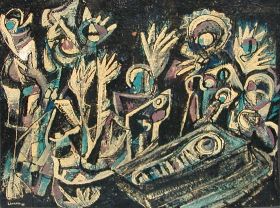 I want to start from local and then we'll go from there.
Ajijic is recognized as a lesbian and gay community. There are a lot of gays and lesbians in Ajijic. There is a lot of acceptance in Ajijic because gays, transvestites, and transsexuals walk in Ajijic in their local areas. So there's not a lot of discrimination unless they pursue a straight person, in which case maybe the local people sometimes can be aggressive. But as long as any lesbian or any gay do not try to have a date with a person that they don't know there is not aggressiveness. Other than that, in Ajijic it's very, very respectful.
Around the lake they say that Ajijic is the capital of the gay and the lesbian community. This is true not only of the foreigners but a lot of natives from other towns around the lake. Sometimes there are jokes among the local people around the lake that we say that we import a lot of gays in Ajijic.
Chapala is more conservative and not as open as in Ajijic. In Ajijic you see transvestites. There is even a contest for the Gay Queen for Ajijic and when it's the Carnival, you can see in the parade a lot of gays who dress like a woman or lesbians. So it's very, very open. If you go to Jocotepec or the other towns, they are more conservative; it's not as open as in Ajijic.
Talking about Mexico, there was a lot of criticism because the federal government had approved a law that gays and lesbians can get married.
One of the biggest gay and lesbian parades is in Guadalajara. It's really huge in Mexico. There is another in Mexico City that is big but the most representative is in Guadalajara. Guadalajara is known in all Mexico to be the capital of the gay and lesbians, too. There are a lot of gay bars and lesbian bars. A lot of restaurants are specific for that market. There is a lot of nightlife for that market too.
Little by little Mexico is getting more respectful but, of course, there are different opinions. My suggestion is for any gay or lesbian, if they don't know what is the preference of the person, do not pursue. Make sure that the other person is also gay or lesbian because some Mexicans can be very aggressive. There is kind of like a cultural thing that we have in Mexico: you don't mess with me, I don't mess with you. That is a good tip to avoid conflict or a fight.
The rest of Mexico more conservative. The state of Jalisco is known within Mexico as having the most gays and lesbians of any of the others states within Mexico, not that most of the people are gay.
Besides Mexico City, Guadalajara, Vallarta, and Ajijic are the three places where there is more acceptance. The majority of the concentration of gays and lesbians comes to Guadalajara because there is more acceptance and they come from other states where it's more difficult for them to be free. In Guadalajara sometimes you can see gays or lesbians kissing.
(Pictured: 1949 painting by German-Mexican gay artist Linares-- Ernesto Butterlin-- Ajijic, Mexico.)
Posted November 21, 2016