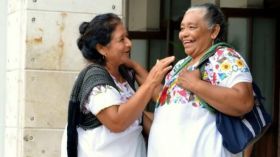 Yes, you can get by with English here in Yucatan. The great thing about the people here in Yucatan is that everybody wants to help you communicate. Even if you cannot quite figure out what you want to say, they will find a way to help you by letting you point at it or tell them what it sounds like. Does it "oink like a pig or does it "quack like a duck?" If you are trying to tell them something about your car, you could point and tell them the noise that your car is making. Point to a part of your body or to the food that you want and they will help you communicate.
Overall, the language that is most spoken in the Yucatan Peninsula is Maya. Maya is the predominant language of Yucatan. The entire peninsula is populated with little Mayan pueblos so they are everywhere. In fact, we have an employee who just started with us. I went to his pueblo last weekend to get some documents that he needed and his family was there. They all conversed in Maya; everybody in the pueblo converse in Maya. When they talk on the phone, his mom talks in Maya, and doesn't even understand any Spanish, even though his dad did.
Spanish is the second most spoken language in Yucatan. The third would be English because everybody who goes to any kind of school learns how to speak some English. Here in Merida, where you have all the colleges and tech schools, there is an enormous young population of people who speak at least some English.
Dealing with day-to-day life here Yucatan, you are going to need to learn some Spanish words. I found that it is really important to know how to say "baño," which means "restroom" because when you got to go, you got to go and you need to know where the baño is! It also helpful to know how to say some food items and household items especially if you have a maid or a gardener who doesn't speak any English, which is usually the case maids or gardeners. They are not well-educated, so they do not know how to speak English so in order for you to communicate, you have to know how to say some household items in Spanish. You can also point to the thing that you are talking about.
Overall, once you are able to start communicating with the people here, you would be able to build a relationship with them as well and relationships are important. These are a relationship-type of people, so learning some Spanish is a good idea and maybe you could also learn so speak a little Maya, too.
(Pictured: Mayan women laughing and talking in Yucatan, Mexico.)
Posted January 21, 2016