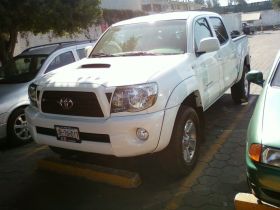 The lowest-priced, brand new, bare bones vehicles in Mexico cost 140,000 to 150,000 pesos (about USD $7,950 to $8,515).
If you're buying a brand-new car in Mexico, the dealership people are in charge of getting all of the documentation to get a new plate.
According to the Immigration Department, to get a Mexican driver's license, an expat must have a permanent resident status. You don't need a Mexican driver's license to buy a new car. However, without a permanent resident status, you might not be able to get the car title under your name.
The problem right now with the Mexican transit authorities is that they keep changing policies. Right now, the new policy implemented in the last three to four months is that if you do have a US or Canadian driver's license, you can drive a Mexican-plated car.
In the United States, if you want to buy a new car, you do your research. Most people would bargain because the dealerships can charge whatever they want. In Mexico, car buyers can also bargain with dealerships depending on the time of the year. Before buying a car, go out and do your research.
This period between April and July, car agencies will be offering more deals. By August and September, car dealerships are getting their car quotas of 2018 models so they don't want to have any old cars from 2017 sitting on their lots. They are now looking for customers aggressively and advertise. They can play with rebates and extra months with no interest on the loan.
Another thing that has totally changed in Mexico now is access to credit. Car dealerships can play around with interest rates. Prices can be negotiated. Especially if you are on cash basis paying the car off right away, you're in the driver's seat. It's part of the nature in Mexico to have a competitive spirit. Car dealers may have set prices from the manufacturers that are published, but there's a little room for adjustment.
(Toyota in Guadalajara, Mexico, pictured. )
Posted October 12, 2017