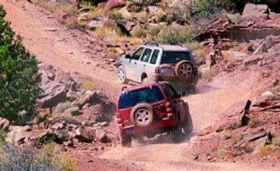 The cost to buy a car in Mexico would depend on the brand of the car, how old it is, and so on. You can find decent used cars that can cost you around US $5,000 to $6,000
The most important thing relative to cars in Mexico is that in Mexico you pay import taxes, which are already injected in the purchase price of the vehicle. Here's an example. A new Jeep Wrangler, in Mexico, would probably cost you about $25,000. I believe in the US you can find it a little bit cheaper, so the cost for a new car in Mexico is a bit more than in the US.
You can't go across the border to the US, buy a car, and bring it back in order to save money, because there are regulations against that. As a Mexican, you can't import a vehicle. As a foreigner, you can bring your vehicle here to Mexico, but you would need special authorization.
(Off road Jeeps in Mexico, pictured.)
Posted January 24, 2016