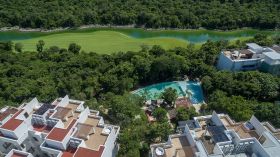 A luxury condo with two bedrooms and two bathrooms and with a Gulf view or a jungle view in the state of Quintana Roo (includes Cancun, Cozumel, Playa del Carmen, Tulum, and here in Akumal starts at about US $180,000. This amount is for the highest quality materials and a great location in the Riviera Maya.
This price is strictly for Tao Mexico which is a master planned community that's higher end with an enormous amount of residential amenities and part of a much larger community
In Playa del Carmen and in Tulum, condos also cost $180,000 but these condos are a lot smaller because of the fact that Tulum now has a lot of construction going on.
Pricing of land is different in Tulum because the land is from Ejido, which means it is owned by a cooperative where there are some complications on clear title. When there is a lot of Ejido land, it takes a lot of land off of the market, so the remaining land becomes much more valuable, and therefore more expensive. This is why it's really difficult to buy land in Tulum.
In Tulum, it is a little complicated to construct and to buy land, and that's why I would not recommend investing in Tulum. The rest of the Riviera Maya, on the other hand, does not have a lot of Ejido land.
It is a little bit more expensive in Cancun than Tulum. In Cancun, you will get a loft with one bedroom for $180,000. That would be in a good, safe area, but it will be smaller.
(TAO Inspired Living condos and golf course, Akumal, Mexico, pictured.)
Posted March 18, 2017