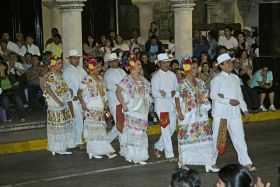 I have not worn closed shoes for 13 years. I go to weddings here in Mexico wearing sandals. I recently went to a tuxedo wedding in Merida (the largest city in the state of Yucatan in the Yucatan Peninsula) wearing sandals. I wear cut-offs 99% of the time, with short-sleeved shirts.
The only time where you should wear long pants is if you're going to a government meeting, where, out of respect, you should wear long pants. Otherwise, you can wear cut-offs, t-shirts, and baseball caps all the time.
The dress code here I very casual. We go to Merida all the time and I usually wear my cut-offs or short-sleeved shirts. You can go into expensive 5-star restaurants wearing the same. You can also wear the same if you are going to a business meeting, depending on what the business meeting was about. If it was a meeting with notaries or a new lawyer who I've never met before or somebody from the government, I would definitely wear long pants. I would never wear a long-sleeved shirt, though.
Locals dress differently. Most of them wear long pants all the time, which I find rather odd because it is so hot here, but that is their tradition. A lot of Mexican males wear long-sleeved cotton shirts even if it's hot outside.
Female expats and female locals wear anything they want as long as their main bodily parts are covered up. It is frowned upon to go around in a string bikini unless you're at the beach. If you are going to a restaurant in Merida, you can't wear that.
(Wedding dance in Yucatan, Mexico, pictured.)
Posted December 29, 2015