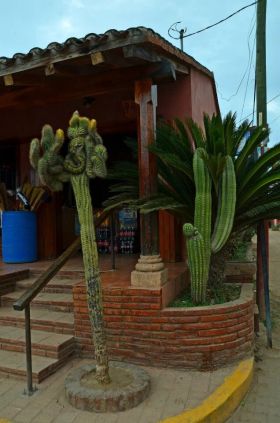 The average temperature in Mazatlán is 25-30 Celsius (77-86 Fahrenheit) depending on the time of the year. It can be 29 Celsius (84 Fahrenheit) today and become 24 Celsius (75.2 Fahrenheit) tomorrow. In the winter, Mazatlán only has one or two weeks that are cold, with a temperature that can sometimes reach up to 20 Celsius (68 Fahrenheit) depending on where the north wind is headed. Sometimes it can get colder than that. In the summertime, on the other hand, the weather in Mexico is humid at around 30-35 Celsius (86-95 Fahrenheit).
I had a very bad accident many years ago, and I've been suffering from a very bad arthritis that affects my entire body. For the pain, I was taking a lot of morphine and other painkillers. Before moving to Mazatlán, my family and I would come to Mexico for a vacation. I started feeling better, so when I went back to Canada, I told my doctors about that. I felt so much better that they said I should come back to Mazatlán. I came back to Mazatlán and stayed here for a week, then I came back again for another two weeks, and it went on and on. The next thing I knew I was staying in Mazatlán for six months.
Coming to Mexico didn't make me 100% pain-free, but I was taking less morphine because of it. I didn't take painkillers anymore, and although every so often I experience a little bit of pain, it's nothing compared to what I had before. I have felt a thousand times better and so much more stable because of the weather in Mazatlán. In Mazatlán, the weather is nice and sunny every day.
(El Quilete, near Mazatlan, Mexico, pictured.)
Posted July 18, 2017