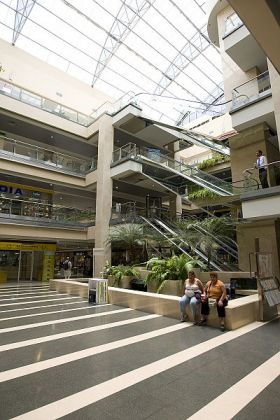 Shopping in the Panama City areas of Marbella, Punta Pacifica, and San Francisco is awesome.
Multiplaza, the biggest mall in Panama, is located in Marbella. It has all the major shops you can think of. In the past, whenever I go to the US, I used to shop there and bring stuff here in Panama but I no longer do that, because everything that you can get in the US is also already available here now. There is a wide selection of shops in Multiplaza like Claire's, Montblanc, Cartier, and so on. The best thing about the malls here is that they are very accessible. I just walk to the mall from my apartment. The developers did a great job in choosing a strategic place for the malls so that everyone in the Marbella area can easily reach them. There is also huge mall connected to the Hard Rock Hotel, which is Multicentro.
The Marbella area is extremely commercial so you will get everything that you need here. Therefore, if you have a high-end girlfriend or wife, you're doomed! Because everything is accessible, they will get everything they want pretty quickly and easily and that might be a problem.
Posted September 16, 2014