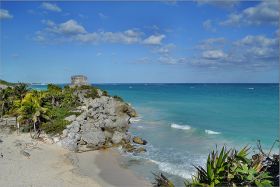 If you own a property in Mexico, you have an escritura, which would be the equivalent of the grant deed in the United States. It's in your name. In the United States, you use a title company. In Mexico, you use a notary. A notary in Mexico is not the same as in the United States. It's not some common Joe who took a test and has a stamp. No. Notaries in Mexico are high-level attorneys who have masters or who are qualified and went through the process to become a notary.
They also are respected as judges in our state of Jalisco and in most of the states in Mexico. They are the ones who deed our properties. Therefore, you cannot lose your property. Someone coming in the middle of the night and stealing your property from you, that's not heard of in Mexico anymore. For property near the beach, that's why you have the trusts. In the inland areas such as Chapala, San Miguel de Allende, and other inland areas in Mexico you don't have a problem. You won't lose your property. It's yours. You have rights to that property.
The recent situation in Tulum is a different scenario because that would be like Indian Reservation land in the States because it's an "ejido" land. You have be very careful when buying property or opening up a business in a foreign country to know that you are on the right type of land because we have different types of lands here. In our revolution, and after the church took some of the properties, the Mexican government gave property back to the farm workers and that's what the ejido. Ejido lands are only owned by Mexican citizens. Foreigners cannot own there. If it is changed from an ejido to a small property, after making it a normal type of land, a foreigner may own through a trust. You can't even be involved in ejido and their internal regulations because you're not Mexican and you're not from that area or that region. The ejido system was set up in order to help the Mexicans regain property that was stolen from them.
Relative to corruption, there is corruption anywhere in the world. We have so many laws and regulations, from county, the state, federal laws, if you would like to open a business in Mexico, make sure you do it the right way. Get your business permit. If you were opening up a liquor store where my office is located, you would go to the county of Chapala, see the director of licensing and ask him, "What are the means for me to open my liquor store?" He will tell you. "Mr. Smith, you are going to need to show me your contract or the property deed of where you're putting the liquor store, your RFC number (your tax ID number; as a foreigner, you can have tax ID numbers), your green card (temporary residency card) and the application. Then pay a fee in the county. That's one part.
Then you'll have the license to open the store. You'll open the store and you'll have to deal with providers so they're going to ask for "facturas," which are invoices, and then you'll have to have an accountant, and have an attorney, just for the beginning of it. It sounds complicated but have an attorney just so someone can orientate you into having everything done correctly, so someone will come and try to steal or to take away your business because you didn't do it many people have attorneys or accountant facilitate the process and get the permits for them. It's not difficult; it's just meeting the requirements. The requirement sheets are simple. You just need to make sure you follow the rules.
I know Mexico has a reputation of being corrupt, which is also because of attorneys and of people that buy into it. They say, "Oh I can do it faster." Or, "I can facilitate this. I know such and such."
If you follow the rules and play the things correctly, Mexico is not corrupt. It takes time because our system is not the same as the United States. The Mexican legal system is Greek – Roman. It's not Anglo-Saxon. It's not oral. Therefore, everything is a bunch of paperwork. That's the one thing you will spend on – copies. But it's not only the country's fault, it's also the people who have allowed it to happen and foreigners saying, "I can just give you 500 pesos" and try to buy officials off.
(Beach near Mayan ruins, Tulum, Mexico, pictured.)
Posted August 10, 2017