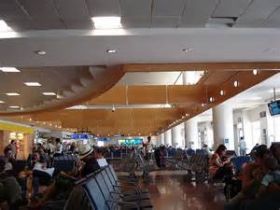 What's interesting about Quintana Roo (one of the three states in the Yucatan Peninsula, who has within it Cancun, Playa del Carmen and Tulum) is that we have the Cancun Airport. A lot of people who are retiring to another country do forget some items that are very important, one of which is the ease to get back and forth from your home country. A nice feature about Quintana Roo, particularly, Cancun, is that Cancun Airport is the second busiest airport in Mexico and they have direct flights to many cities such as Chicago, New York, Saint Louis, Calgary, Minneapolis, and other major US cities. That is a big advantage.
To be able to fly down here directly makes it a lot easier than having layovers. There are times when some emergencies pops up and you have to go back to the States and that all adds up. As an example, it takes a lot longer to get all the way down to Central America versus a flight from Chicago down to Cancun.
You can fly into the Merida Airport from most Mexican cities, especially Mexico City. They have direct flights from Houston and if I'm not mistaken, from Atlanta as well. There are very good deals going right into Cancun so I know a lot of people whose final destination is Merida fly into Cancun and then pick up one of those big buses at the airport, which takes them right to Merida. Merida is about 4 hours away from Cancun by bus and 2.5 hours by car.
(Cancun International Airport, Cancun, Mexico, pictured.)
Posted May 08, 2016