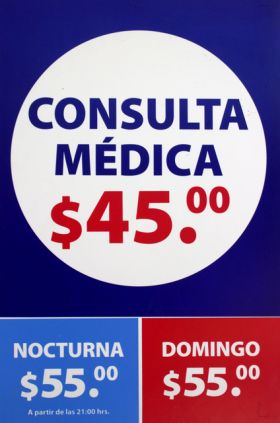 US $2.25 to visit a good doctor? That's right!
I could hardly believe it when I first went to a doctor here in Tijuana. And my doctor was excellent. I expected a quick prescription and she started with questions and gave me a complete exam before prescribing some allergy medicine.
I am now in Tijuana and as a veteran, I have the benefit of free medical care right across the border at the VA clinics and hospital in San Diego. But I usually just go to a doctor here because it is so inexpensive and I get excellent care.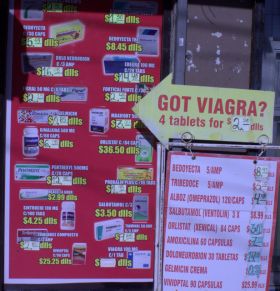 Healthcare prices can vary immensely in Mexico. It may even be free with Mexican insurance. If you do go to a doctor, you can find a variety of costs but overall medical care is very inexpensive. It is even cheaper now with the current currency exchange rates.
This is one of the reasons that so many US citizens now live in Tijuana. In fact, there are more US citizens over 50 years old living in Tijuana than in any other city in Mexico.

Most of the pharmacies in Tijuana and Rosarito subsidize doctors who have an office attached to the pharmacy. The charges at most of those clinics are 45 or 50 pesos ($2.25 to $2.50 in US dollars today). The medicines in the pharmacies are also very inexpensive and many US citizens visit just to buy their prescriptions. I've also talked with pharmacists in the US and Mexico and they have all told me that the quality is similar in both countries. The only real difference is the power of the pharmaceutical industry in the US.
Here are some prices for medical procedures and some of the more common medicines in Tijuana in Dec. 2016.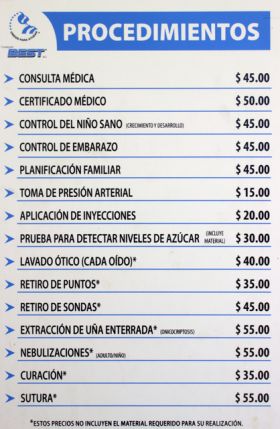 Procedures
$2.25 Medical consultation
$2.50 Medical certificate (for marriage, work, etc.)
$ .75 Give an injection
$1.50 Check blood sugar levels
$ .75 Check blood pressure
$1.75 Remove sutures
Medicines
$5.00 Penicillin (40 capsules)
$7.15 Amoxicillin (60 capsules)
$2.50 Ampicillin (20 capsules)
$8.45 Vitamin B Complex (ampule)
$2.20 Viagra (4 tablets)
$ .95 Gelmicin cream
Posted December 18, 2016