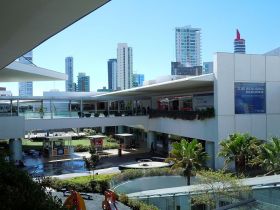 Is the US safe? Chicago is not very safe. There are parts of LA that are not very safe. The safety in Mexico is a little bit like in the US. You go to certain parts of Guadalajara at certain times, especially at night, and it is not safe.
For the most part, Mexico is safe as long as you're careful. Don't go to certain areas late at night unless you're by the beach where there's a little bit more nightlife. Generally, however, it's not good to drive at night or go out really late at night.
You have to be more aware and alert. For example, while shopping, don't leave anything in the car like a handbag for everyone to see. It's too tempting for thieves and they would break your car window to take the handbag. If they don't see anything displayed in your car, you're not going to have a problem. Another example would be walking around with a big handbag in crowded markets.
Personal safety depends on how a person acts and how wise he is. There are certain things that you have to be more careful of in general. It is quite safe in Mexico if you are more careful and discerning.
When choosing a house, you wouldn't want to get a house in the middle of nowhere because you don't really know who your neighbors are going to be. You want to be in an area that's relatively safe. A lot of people go for gated communities, which are quite safe.
Ninety percent, if not more, of crimes against people would involve theft. It has happened in Mexico where a thief has broken into somebody's house to steal something and the owner shows up. Sometimes people get hurt because they were in the middle of the theft. Other than that, as long as you stay out of certain areas, you'll be pretty safe.

My wife goes out by herself in Mexico. Sometimes she even goes to Guadalajara by herself to go to shopping centers. I take her to the bus and she takes the bus to Guadalajara. She gets to the bus station in Guadalajara, takes a taxi to the shopping center, and goes around to shop. She's never had a problem. She's been doing this for six years. She's always back before dark and just goes to the nicer parts of town where the better shops are located.

I feel safe here in Mexico.
(Plaza Andares, Guadalajara, Mexico, pictured. )
Posted August 23, 2017