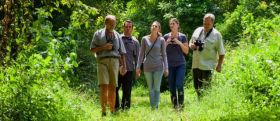 If you are a retired person coming from the US, Europe or Canada, your money goes a long way here in Yucatan because many things for retirees are less expensive. For instance, if you need someone to clean your house, you can get a very good person to clean your house for 200 pesos (US $11) a day. That is pretty cheap to have someone to clean your house. You can get a gardener for that same amount of money. If you need to have dents removed from your car or you need some repairs done, it is so much less expensive here. If you bring in a vehicle from another country, it will be expensive because they might not have the vehicle parts here and you will have to wait and import the parts. So if you want to have a vehicle, it is better to buy it here in Mexico than to import it.
A big part of what retirement is like in the Yucatan is the financial cost, the economics. It is less expensive to live here. Groceries, movie theaters, entertainment, doctors, or even someone to take care of your home is less expensive. If you need someone to take care of you in a healthcare situation, it is much less expensive. My older brother lives in Majahual, an area in the Yucatan Peninsula in the state of Quintana Roo. His wife had Alzheimer's disease so she needed to have someone in the house with her full time so that she could have 24-hour care. In the United States, it would have been ridiculously expensive and my brother couldn't have afforded to do it but here in Mexico, it was reasonable and affordable. His wife got much better care here than she would have gotten in the United States.
Transportation and water are also less expensive here. Property taxes are a lot less expensive. Generally speaking, on all the major items of expense that you look at as a retiree, it is less expensive here in Mexico than it would be in Europe, Canada, or in the United States. A few items that might be as expensive or even more expensive here than in other places are energy-related such as electricity and gasoline.
It is nice to be able to live where there is warmth and sunshine all year round. If you are like me, who is from Colorado, and you got tired of shoveling snow for 40 years, it is a really nice change to come to Mexico and not shovel snow anymore. It is also nice to be able to garden year-round. It is nice to be able to go to the beach or to jump in your pool and go swimming year-round. I have beautiful gardens, which I like to go out and tend. I get lemons, limes, and bananas year-round. I don't have a little garden with herbs, lettuces, and radishes but a lot of my friends do have small gardens like these that they tend and they also get those vegetables, and herbs and spices all year round.
The climate is important. If you have arthritis, like I do on my knees and my hips, it improves greatly when you are in a warmer climate. When I was in Colorado, as soon as the cold started, my knees would start to creak and my hips would start to hurt.
(Walking through the jungle and bird watching, Yucatan, Mexico, pictured.)
Posted January 16, 2016