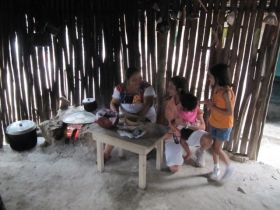 Personally, this year, I don't think the mosquitoes, insects and other bugs are that bad.
There is a phenomenon I can't explain wherein I don't see the locals ever get bit by mosquitoes. As a matter of fact, I don't think the locals even know what air conditioning is. You'll see the Mayan policemen or Mayan families in a car with the windows rolled up and you realize the air conditioning is not on. You'll see them in some of the smaller communities, whether they're sleeping in their hammocks in their little Mayan villages and house's and there's no AC, usually not even a ceiling fan. I don't see the local indigenous Mayans sweat or get bitten by mosquitoes. At first, I was fascinated by that. You can always spot the new arrivals by how many mosquito bites they have on their ankles and behind their legs. For some reason, once you're here for a while, you create some type of immunity to it, because after a while the mosquitoes stop biting you. I guess they go after the newest and freshest new comers that come in.
Some people would say that when the new people arrive, they would say that there are a lot of mosquitoes, usually in the evening and at night to a certain degree. It depends on your location. If you are in the country, in the jungle, sure, there's going to be more mosquitoes. Once you come into town there are less mosquitoes depending on the area where you live.
Mosquitoes are a problem throughout the tropics. There is dengue, and the chikungunya virus that came from Africa for which they're supposed to be coming up. But these are very treatable diseases, not like malaria. I haven't gotten dengue since I moved here, but many people do. They're in bed for a few days with fever and then go on. They might not ever get it again. Not only is this an issue in Yucatan, but it also exists un South Carolina, Florida, and Alabama. As a matter of fact, these diseases got to the US first before they came to Mexico.
(Mayan house in Yucatan, Mexico, pictured.)
Posted September 19, 2015