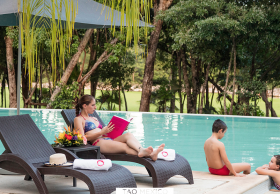 Cancun has an airport with the most international and tourism traffic in Mexico, second only to Mexico City. Cancun has flights coming in from Europe, the United States, Canada, and a lot more, so it is a really good airport.
Cancun is a big city with a lot of huge hotels and a lot of companies mainly focused on tourism. Cancun is like Mexico City turning to the beach life. It is a great city to live in- it's big and it has a lot of schools and houses. People move from Mexico City to Cancun because it is a really, really amazing city. The population in Cancun has grown a lot. If you see the path of progress, it is just amazing. Cancun had a population of 200,000 in the 90's, and right now it's about 800,000 people.
Cancun has a main street that's 20 kilometers long and is full of big hotels that have more than 10,000 rooms. The people who live in Cancun (as opposed to the tourists) are more on the outside of Cancun where they have their houses outside of the tourism area.
Going south, around a 50-minute drive from Cancun is Playa del Carmen, which is an amazing small town that has also grown a lot. In the 90's, Playa del Carmen had only 2,000 people, and now there are around 200,000. It's a small, party town that has grown amazingly. Playa del Carmen also has a main street called Fifth Avenue that has a lot of restaurants, lights, and life, and this main street is known because of being one of the most attractive tourism places to go in Quintana Roo.
Playa del Carmen is like a Disney World in a little town in Quintana Roo where you can walk around and get to see a Mexican handcraft material, the people, and the little restaurants that give you the feeling of being in Europe. It is just amazing.
What people don't know about Playa del Carmen is that it is much smaller than Cancun, and the hotels are nowhere near the size of the hotels in Cancun.
Builders in Playa del Carmen always make sure to follow the construction regulations of Playa del Carmen. Densities are regulated in Playa del Carmen, so you'll find that you cannot have buildings that are more than five stories tall.
Going south, you'll find Puerto Aventura. Puerto Aventura is a 25-minute drive from Playa del Carmen. It is a residential area that has a marina where you'll find boats, restaurants, and schools. Most of the people who live in this part of Riviera Maya, which is the coastline on the Yucatán Peninsula, are wealthier. Puerto Aventura is a big residential area where most of the people are wealthier.
Further south, a 15-minute drive from Puerto Aventura is Akumal, a small fisherman's town. Akumal offers a couple of restaurants that allow you to go in front of them into the ocean where you get to see these amazing big turtles and anguila (eels) and it is just amazing. Akumal is really a center for tourism where you get to see what the Caribbean has to offer – the white sand, the crystal clear waters, and all the animals that live in the ocean. It is an amazing experience to see.
In Akumal, you'll also see the nearby cenotes from the Mayan culture which are the main attractions in the Riviera Maya, the coastline on the Yucatán Peninsula. The cenote played a central role in the culture of the Mayans. A cenote is a sinkhole that has incredibly clear, iridescent water in it that perhaps is connected through other cenotes throughout the Yucatán Peninsula, and many times have trees on the outside and an otherworldly feel to it. It is amazing. A cenote does not have salty water- it has fresh water. You discover another world inside of the cenotes.
As you get to Cancun from Akumal, you'll see different signs to the cenotes and all the amazing things you can do in this region on the roads.
One of the biggest developments within Akumal is Bahia Principe which has multiple hotels and residential developments. Bahia Principe is on the beach side of the federal highway. Within Bahia Principe is Tao Mexico.
Tao Mexico is 5 minutes from Akumal via the federal road. Akumal is in the beachfront. Tao Mexico has been in the Riviera Maya for seven years, since we started developing it. Tao Mexico is now one of the most unique real estate opportunities in the Riviera Maya. Tao Mexico is inside Bahia Principe, which is a master plan. It is amazing because Tao Mexico offers a unique architectural design that blends with nature.
Right now we are on the last phase of constructing Tao Mexico. We have more than 400 different types of properties in Tao Mexico, and our main clients are Canadians and Americans. We built a community with a wellness center as the heart, and in this wellness center we offer holistic growth and well-being for our home residents.
We have had more than 5,000 events at our wellness center. There are also exclusive amenities and daily activities for our homeowners. The vision of Tao Mexico is to give a sense of belonging to our residents. The properties of Tao Mexico are amazing and built with very high end materials, which causes a magical effect on the people because we don't just build houses, we actually take care of our environment. That's how Tao Mexico is built inside the jungle.
A 15-minute drive further south is Tulum, a small town that has grown a lot. Tulum is a high-end little town with boutique hotels and cabanas on the beachfront. Tulum has a special feeling because it is considered a "hippie town," and it offers organic living, taking good care of nature.
Most of the hotels in Tulum are not massive and are built with wood and materials that people collect from the ocean in the region. Tourists go and are amazed. The Riviera Maya is also recognized for Tulum. Tulum is a place where a lot of people from Europe, the United States and Canada go. Tulum is just like a foreign place. The Riviera Maya ends in Tulum.
(Pictured: pool at Tao Mexico, Akumal, in the state of Quintana Roo.)
Posted March 06, 2017