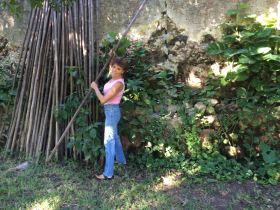 A gardener in Yucatan who works for 8 hours a day would charge 200 pesos (US $9.50) a day. You can hire a full time gardener in Yucatan who will work for 48 hours a week (6 days) for 1,000 pesos ($50) a week.
If you hire a full time staff in Mexico, you have to put them on some Seguro, which is the social system in Mexico that gives the workers a pension and medical insurance. The cost of Seguro for the employer is about 1,100 pesos ($52) a month per employee, and you also have to have a tax number or an RFC number to sign up for Seguro.
Seguro is a form of the Seguro Popular system. Seguro is like what we have in Canada with Canada's pension plan). Seguro is a benefit system that provides security for workers, but if you just need somebody to show up once a week, you can just hire somebody local for 200 pesos ($9.50) a day.
The rules in Mexico are universal. Everybody is entitled, like in Canada, to have a social benefit program, and most people try to not pay into it, but the consequences of that can cost you $500 - $1,000. If you have any employee, you're required to put them in that system. Most people don't, if their employees are hired only once a week. Many people try and avoid that system because they don't want to pay the cost of the security for having the employee.
If someone gets caught not paying for Seguro, the workers can ask for back compensation, holiday pay, Christmas bonuses, and vacation days. There's a system in place for employers that don't pay benefits for their employees.
(Iona Chamberlain working in her hacienda garden, outside of Merida, Mexico, pictured.)
Posted January 13, 2017