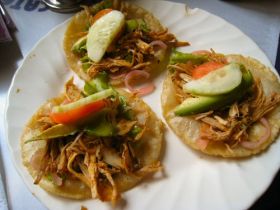 The cost of restaurants in Yucatan depends on where you eat. There are local Yucatanian restaurants that will normally charge US $5 a head for the food, and a couple of bucks for the drinks, or perhaps a beer. There is also high-end dining in Yucatan that costs $50 - $60 a head, which is in the more tourist areas in downtown Merida. In Playa del Carmen, it's also very easy to find a $50 - $60 a head per plate.
In the state of Yucatan, for $5, you can get panuchos, salbutes, sopa de lima, tacos, taquitos, and there's a local fare in Yucatan that consists of a meat, a bread-type product, whether it be fried or just baked, and a small amount of vegetables, usually something like onions. It's quite small, and you'll have two or three of those that would cost you about $5 total.
Expats would go to these restaurants in Yucatan if they could find them. Some of these restaurants are off the beaten path, and some of them are more for the locals, because the tourist industry can't make money at $5 a head, but the local industries can. One of the best things you can do is to get some local knowledge as to where the best places are in Yucatan.
(Salbutes made with turkey, Mexico, pictured.)
Posted January 09, 2017