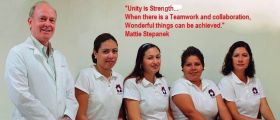 There are many options for health insurance in Mexico. And the costs vary depending on what you choose.
There are national health insurance companies that cover major medical conditions, ambulances and hospital expenses but they usually do not cover outpatient costs like office visits or laboratory testing. Their premiums are less than in other countries, but they typically do not insure someone over age 60 to 65.
We work with some independent insurance brokers who also offer international and travelers' insurance. They too cover the major-medical expenses, there is no limit for age, and they are usually very reasonably priced.
Mexico has a national health care system called IMSS and foreigners who have a resident visa are eligible to apply. This has a yearly cost of about 300 to 400 dollars and covers everything: office visits, hospital, laboratory testing, even medications. On some occasions applicants are not accepted for pre-existing health problems or the coverage is slowly integrated over a few years. Also, like many other national systems they are over-utilized, understaffed, and lacking resources. Typically, what I see are patients who sign up for IMSS and use it only for the major health problems like hospitalizations, where they have excellent facilities and physicians. Then for the routine things they see me and use the private diagnostic services, which are fairly inexpensive, anyway.
Lastly, in our office we offer a service that works with a patient's existing medical insurance. We have contracts with over 350 international medical insurance companies. The policy is reviewed and if it qualifies, the patient is able to see a physician in their office for $100 pesos (around US $5), have a hospitalization for $500 pesos (around US $25) total, no deductibles, no co-insurances, and no sign-up fee or additional cost.
(Dr. Peter F. Gordon MD with his staff, Puerto Vallarta, Mexico.)
Posted June 23, 2017