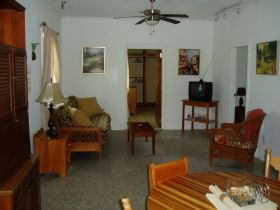 Renting an apartment in San Ignacio, in the Cayo District, Belize, can range anywhere around US $400 to $800 per month, depending on the size. The reason they may seem a little bit more expensive is because apartments work differently than house rentals. Apartments are inclusive of the utilities: electric, water, butane gas, Internet and cable. That's why they mark it up higher because they need to cover their basis, especially, if the apartment has an AC unit. Air conditioning can be pretty expensive here. So that's why they charge plenty enough so that if you were to use the AC every single night for an entire month they should be able to have enough in there to cover that power bill.
For $400, you'd probably get maybe a 400 square foot, one bedroom, a bathroom, a kitchenette, deck, but no AC, in a nice area. You will, however, have the electricity, water, cable TV, and Internet included for $400. If you're paying $800, it just means about the same size or a little bit bigger, but with AC included.
The largest apartments for rent I've seen are two bedrooms and not anything bigger than that. If you wanted a bigger space you would have to go for a stand-alone house.
(Living room in a cottage, Cayo District, Belize, pictured.)
Posted July 25, 2015