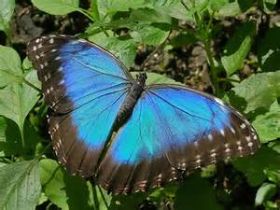 Our biggest natural disaster worry in the Cayo, Belize area is flooding and even that's not that much of a concern. When we get a rain shower downpour during the rainy season then we may have some flooding, but it's not something that's super devastating that cripples the economy in any way.
We're far away enough from the coast, so if and when we do get hurricanes it's not as bad. Thankfully, (and I'm 30 years old), I've only experienced one hurricane in my life and that was 2010 Hurricane Richard. Here in Cayo, the result was basically just rain and wind and not any damages.
We are about maybe 50 to 60 miles from the sea as the crow flies. If we were to drive to the coast the closest one would be Belize City, which is 75 to 78 miles.
Every once in a blue moon we may get a light tremor but that's about it.
We may get a wild brushfire, but it's not like neighborhoods and houses are threatened or burnt down; that's not the case.
(The blue morpho butterfly with its wingspan of five to eight inches finds refuge in the lush rainforest of the Cayo District of Belize, pictured.)
Posted July 25, 2015