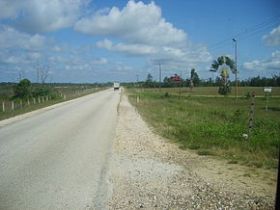 Taxis are widely available in the Cayo District in Belize. There are different associations because they run different routes. For example, there is one that goes to the western border because it connects to people going into Guatemala. The fare for the 12 mile ride from San Ignacio to the border is Belize $5 (US $2.50) per person.
And then there's another one that runs the three mile Bullet Tree route, which costs Belize $3 (US $1.50) one-way per person. And then there's one that runs everything in town for both San Ignacio and Santa Elena and they cover all the neighborhoods in both towns. The fares for these are pretty cheap. If they have to stay of this side of the bridge (the twin towns of San Ignacio and Santa Elena are separated by a bridge), meaning here in San Ignacio, it's usually between Belize $5 - $6 (US $2.50 to $3.00) to your home from to downtown. Now if you have to go to Santa Elena it's usually Belize $7 or $8 (US $3.50 or $4.).
You don't have to bargain with the taxi drivers here. When you get into the taxi you ask them for a fare. You say, "Sir, I'm going to Santa Elena on 'XYZ Street'. What much does it cost?" And he'll give you the figure. There are no meters on the taxis here.
(George Price Highway between San Ignacio and Belmopan, Belize, pictured.)
Posted July 25, 2015