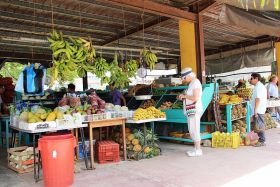 We have several supermarkets in San Ignacio and Santa Elena area, in the Cayo District of Belize. You could get mostly what you need but you won't get a huge variety of the products. For example, if you wanted cereal, there may only be twenty types of cereal. There won't be a hundred or a hundred fifty like a neighborhood store or Wal-Mart in the US. You can get the items you want but there will not be the huge selection you would find in a large supermarket in the US. You can buy foods, drinks, nuts, cereals, and meats, etc. at the supermarkets.
The supermarkets here are not huge, nowhere like Giant or Kroger. They're smaller, perhaps one third the size. They don't have the huge variety, but they do have the basic items you need. You could walk into a Chinese (what the stores are called) here and you could pick up ingredients to do pizza, for example. Or you could walk-in there and buy the ingredients to do a pasta meal or something similar.
I buy my basic food in these supermarkets and then I buy vegetables and fruits at the farmers' market. The farmer's market has outdoor stalls and is open every day, even on Sundays. You can buy fruits and vegetables at the supermarkets, but we choose not to buy because it's a little bit more expensive and if you go to the farmers' market it's fresh, mostly, it's fresh. The big market day is Friday and Saturday, with Saturday being the bigger day. That's when you get the freshest and best items.
For the most part, the fruits and vegetables you get at the farmers' market were grown within Belize, but we do get some imported stuff like peaches, apples, and pears.
(Farmers' market Santa Elena, Cayo District, Belize, pictured.)
Posted July 25, 2015