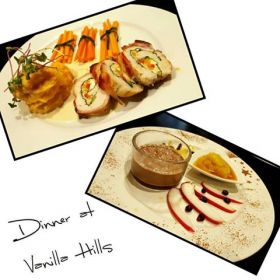 The food in the markets in Cayo has its ups and downs. They get their deliveries twice a week, Tuesdays and Fridays. If you go to the market on Tuesday morning or on Friday afternoon, you will get some very good quality foods. There would be some nice cauliflower, broccoli, etc. But if you go there on a Thursday, everything seems to be spoiled. The cauliflower would be somewhat grayish and they would cut out the spoiled pieces. You would get some old carrots because most of the stalls at the market do not have refrigerators. Just imagine the produce sitting in the high temperature for two days. Saturday is the main market day and when you go early in the morning you will get some very good quality food for a very reasonable price.
There is not a lot of overall variety of food in the markets in Cayo. The common produce you would be able to get is cauliflower, broccoli, eggplant, zucchini, and potatoes. The markets in Cayo have a good variety of tropical fruits like pineapple, and papaya all the time. They only sell avocado or mango when they are in season. It is not like in the developed world where you could buy any kind of fruit even if they are out of season.
You get a lot of spices here in Cayo, too. There are three or four stalls in the open-air market where they sell only spices. You can get most spices that you need for cooking your favorite dishes.
There are no Wal-Mart-type stores here in Cayo that cover pretty much everything. Instead we have small supermarkets. Taiwanese owners run 95% of them. They have the same products as most supermarkets. There may be a handful of stores that also sell different merchandise to please the expat community. We have only one real supermarket in the whole country, which is located in Belize City. The supermarkets here in Cayo are referred to as "the Chinese Store" even if Taiwanese people run them.
What I dislike about the stores here is that you'll find that most things are dusty. The reason is that they have the doors open all day long and many roads in Cayo are not paved. So even if things have just been on the shelves for two days, they can be dusty, which is something I don't like. When I was in Austria, I liked doing the groceries because I like going through all the isles to see what they have new in stock, but here in Cayo, most of the time, I let my husband do the shopping.
I like the open-air markets here in Cayo to some extent. What I like most is the interaction with the vendors. The Austrian markets have the lowest prices in Europe so I am used to very low prices for good quality. When you compare the prices in Belize with the prices in Austria, it seems to be even more expensive here in Belize for me than it is in Austria. Things like flour, rice, and sugar would be cheaper here in Belize but one liter of milk here is roughly $3 Belize (US $1.50), while in Austria you pay 80 euro cents, which is not even US $1 or less than $2 Belize.
(Incredible dishes prepared with local produce available at Vanilla Hills Lodge, Cayo, Belize, pictured.)
Posted July 04, 2016