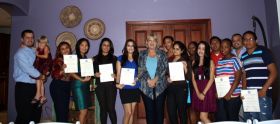 There aren't a lot of good clothing stores in the Cayo District of Belize. Most of the stores are owned by Hindus (Indians from Asia) and most of the clothing you buy here is cheaper quality and the same goes for the footwear for sale; mainly cheap stuff very few name brands. If you do get name brands, they're most likely knock-offs, as opposed to the real deal.
In addition to these stores, there are a couple of boutiques here that sell mostly dresses and some accessories for women. They may carry some dress shirts and pants for men and some shoes, but that would be about it. They're tiny stores; perhaps 300-400 square feet.
Personally, I buy it when I'm traveling. When I go to the US I may pop into a store and maybe just stock up on two or three jeans, a couple of shirts and whatnot to bring it down with me. If I'm in Panama with my wife (because she's from there), we go shopping, and we just stock up on items such as socks, underwear, and even t-shirts. You can just stock up on those kinds of items knowing you probably won't be there for another year, so it makes sense.
There are places in Belmopan or Belize City where you can buy nicer clothes if you didn't want to leave the country, but it would be a little more expensive than, for example, buying those clothes in Panama. For example, if you want a pack of Hanes underwear, which is a cheap brand in the US and that you could buy at Wal-Mart, you would pay double in one of the places in Belmopan or Belize City.
Sometimes, people from the Cayo District / San Ignacio go to Mexico, to Chetumal. Belizeans like it because there's a mall over there and they could watch movies, they could go with the kids to the food court or walk along the seaside. They even buy groceries in Mexico, too, even wines, which they bring back with them. One way, it's three and a half hours from San Ignacio to Chetumal. Going there is not convenient, but it's not impossible.
(University of Belize students participate in a Beyond Silicon Valley meet-up, pictured.)
Posted July 25, 2015