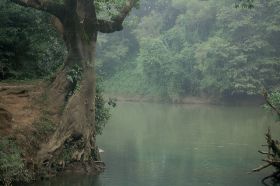 There is one golf course here in the Cayo District, Belize and from San Ignacio it would be 30 minutes away. The name of the course is Roaring River Golf Course.
You can go in to play; absolutely. Outsiders are welcome. You don't need a reservation or anything like that.
Originally, they had some sort of villas on the property and you could, of course, stay there. They would serve you meals and you could stay there while you golf.
The course has 18 holes and is privately owned. It's on the river. They call it a river, but it's more like a creek. It's a nice fresh water creek along the property.
Belizeans don't generally play a lot of golf. The more affluent play on the weekends and then some expats play as well.
(Roaring River, Belize, pictured.)
Posted July 24, 2015