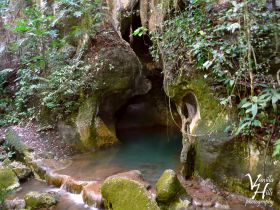 Belize used to be a British colony. The reason why the British came here is because Belize had very precious hardwood trees. Belize was a logging place. For about 300 years they cut down whatever could be sold and transported. I live in the forest next to the river but this forest is secondary growth. It's not the original rainforest anymore.
San Ignacio used to be a logging town for the British. If you look at the old photos from the early 1900s and before, you will see some pictures where the whole river was covered with logs they transported to the sea down the Belize River.
Apart from that the surrounding Countries have much influence on Belize. Guatemala is only 15 miles away from the Twin Towns of Santa Elena and San Ignacio, the main population center of the Cayo district. The border between Belize and Guatemala is more or less a political border that was determined at one point. There is still a big influx of local people from the surrounding countries into Belize.
Given that Belize used to be a colony of Britain the local people have a certain attitude towards colonialism. There are not a lot of British people here. I expected a lot more of them to be around because they have been here for a couple hundred years but there are not many left. So the Belizeans are glad that colonialism is over. They are a young nation. Every year in September, they celebrate their Independence Day, which is very important to them. They are proud of their independence and they are proud of their diversity. There is a diversity of races, religions, etc. It is not a problem if you are white or if you are black. Belizeans see that every person is different and it is natural. You will not have a racial issue here in Belize.
The Mennonites living in Cayo came in 1958 as a monolithic group. They had lots of problems in the beginning because they came from an arid part of Mexico so they had big troubles in farming and they suffered a lot. As far as I know, some Mennonites even died of starvation. So they split up. One group said, "It cannot be the will of God that we die here so we need to use new technology." The other group said, "No, we are not allowed to do that." This is a common pattern with the Mennonites. They want to stay separate from the rest of the world and they do not use modern technology. So over the course of the years they split up a couple of times. Spanish Lookout here in Cayo, is where the advanced Mennonites live. They embraced technology completely and they are at the forefront of new things, whereas if you go to other parts of Cayo and other districts, you will find very traditional Mennonites that you could almost compare to the Amish people. They drive with horses and buggies. They don't use phones. Recently, I just bought some lumber from a sawmill that is driven by horses. The Mennonites living in Spanish Lookout are very successful. They are one of the prime commercial sources in the country of Belize and they are pretty influential. The biggest tire importer in Belize is a Mennonite company and tires are very important here because Belize has rough roads. Mennonites virtually own the chicken business. As far as I know, they produce 80% of the chickens and eggs for the whole country. They are big time farmers. If you go to the Mennonite communities, you will see huge John Deer tractors on the vast fields. They have it all. There is a big difference from the traditional and modern Mennonites that live here in Belize but generally, they live in communities and they have intense contact amongst each other. They are just very different in embracing modern technology and other aspects of living.
Belmopan in the Cayo district is the capital of Belize. It was founded in 1970 as a reaction to the destruction of Belize by hurricane Hattie in 1961. The government decided that they needed to be able to keep the administration working even if everything was destroyed. They had to build the capital inland where it would not be reached by water in case there is another hurricane. Belmopan was the perfect location because it is about 60 miles from the coast. Even if there is a hurricane, when you are so far inland, it doesn't hit you in catastrophic proportions. The public servants had to move from Belize City to Belmopan since most public offices are in Belmopan. The Parliament is there, too. But because Belmopan is a planned city it lacks the charm of a naturally grown town. Everything is very square or tailor fit just to meet the need to hold the government offices. It's very different from the rest of the Belize.
The first people who came to Cayo and started tourism here was back in the 1970s. They came as hippies or young people just checking out this cool place. Some of them founded beautiful hotels and lodges over time. They invested in enterprise here in Cayo. One example is the Lodge at Chaa Creek, whose owners came to Cayo in the 1970s. They tried to be farmers when they came here but they found out that there were some people interested in the Mayan temples. Back then, there were no roads yet; they had to come up here by boat. Over the years, as the infrastructure got better, tourism was intensified as well. Right now, Cayo is one of the main tourism hubs of Belize. You can reach different Maya sites and caves from here. One of the caves is called the ATM Cave (formal name: Actun Tunichil Muknal Cave). The ATM Cave is one of a kind and it was rated by National Geographic as the number one Sacred Cave of the World. It is a major tourist attraction. You walk in the cave through a creek and you see all the Mayan artifacts close by, things that the Mayan people offered to the gods a thousand years ago. The Mayans considered the caves as part of the underworld and you will see a lot of really beautiful caves here in Belize.
Cayo became an expat location and a tourism magnet at the same time. More and more people come here to take tours and see the beauty of the beautiful and unspoiled nature. Cayo is not densely populated and you have enough room to roam around. The acreage prices are still reasonable; it is just expensive if you go for a prime spot by the river. If you like country living, Cayo is a very good place to consider. Many people have found out about it and decided to move here. Cayo has development momentum right now and there is a constant influx of Americans looking for a place to live. You wouldn't believe how many people sat on my porch already to find out if Cayo is the place for them. We try to help interested visitors to determine if Cayo is the place for them. I don't call it consulting. What we do is more like "giving back" because many people also helped us when we came here.
(Actun Tunichil Mucnal, ATM or the Cave of the Crystal Sepulcher, Belize, pictured.)
Posted January 15, 2016