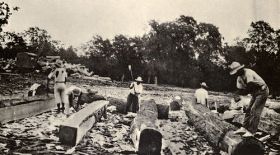 I am not an expert on the history of the Cayo District in Belize, but I will do my best, in order to give you an idea how a typical Cayo resident views the subject.
The Belizean districts of Cayo, Orange Rock, and Toledo have a Mayan background. A lot of the Mayan ruins are found in the Cayo District. There are also some in Orange Rock, one in the Belize area, and then a few in Toledo.
There are still Mayans in Cayo; you can still find them. What I heard was that when the Englishmen came, they started logging. Of course, this was all rich virgin jungle in a lot of areas so they just started cutting lumber and then putting what they cut in the Macal River, which joined with the Mopan River down to the Belize River to Belize City. This river is what the Mayans would use as transportation as well back in the days with a canoe.
They would also export chewing gum from here
So over the years it started changing and then when the Mayans started disappearing and being less in numbers. Then we have the mixture of Mayans and Spaniards and, of course, Blacks with English, and that's how we get the Creole. But the mix with Spanish and Mayans is what we call the Mestizo and that's what is heavily found in Mexico, which is how we ended up with that. So we have a lot of Mestizos here in Cayo, in abundant numbers. We still have Blacks here as well.
Cayo actually gets its name because there are two main rivers that surround this area. "Cayo" is "Caye" which means "island" in Spanish. So that's how I heard the name "Cayo" came about. So the name just got stuck but then they named the entire district Cayo.
Then there were a few Lebanese families that moved into Cayo and started businesses in San Ignacio. It's changed a little bit since then. Then we had the Mennonites come as well. In recent years we've had Asians come in as well. So overall I would say it's really really a melting pot and also very very friendly people.
There's also a large Asian Indian community here as well. They run a lot of the stores in town, focused on household, furniture type stores. The Chinese own grocery stores. The gas stations are run by local Belizeans.
The Lebanese came between the 30's and 40s and the Mennonites came in the 50s.
The Taiwanese and Chinese are viewed by most everyone else as practically the same, although they don't like to be confused. They started coming, originally, maybe about 30 years ago, but have come in larger numbers in the last 15 years.
(Squaring mahogany to send down the river in Belize, pictured. )
Posted July 24, 2015