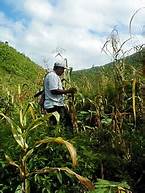 How people treat you depends on how you are as a person. If you like to interact with Belizeans, they really appreciate that. If you behave like a snobby expat and tell people that you are from North America or Europe and that you know more than they do, then it will be very hard for you to make friends because nobody likes that kind of attitude.
Belizeans are very friendly in general. I have the feeling that it is harder to socialize with them because a lot of Belizeans see expats come and go and so I have a feeling that they look at you and think, "Hey, I don't know how long you're going to stay here so why should I be friends with you…"
How you are treated in Belize also depends on what kind of life you intend to live here. The average income of a Belizean is around $700 to $750 Belize (US $350 to $375) per month, so you can imagine what kind of houses these people live in. If you are an expat who has an income of $4,000 Belize (US $2,000) a month and you invite them to come to your place, they wouldn't be comfortable and vice versa. So I think, on that level, it is a bit difficult to socialize with them. But in general, if you are not a snobby expat, you will be treated friendly and with respect. There is no resentment towards expats in general in Cayo.
(Man tending to corn, Belize, pictured.)
Posted June 28, 2016