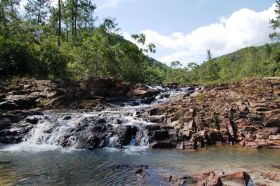 Among best things about living here in the Cayo District / San Ignacio in Belize is the cheaper cost of living. In addition, the people here are very friendly and there are lots of things to do because within just a short driving distance, you will get to waterfalls, Mayan ruins, caves, and a lot of other great activities. During weekends, you can just take a drive and you will end up in several nice places. There is lots of hiking, restaurants, and other places to go. There are a lot of good resorts in the vicinity, so therefore, there are more activities to do. You can go out for dinner.
San Ignacio (the main city in the Cayo District) is just two hours away from the beach and 30 minutes away from Guatemala. This area of Guatemala has a Maya site which is an hour driving from San Ignacio, and which is a major site that rivals the Caracol Maya Site in Belize. A lot of people who come here and are interested in Mayan sites go there. You also have a Mayan town, which is on a little island in the middle of Petenitza Lake, which rivals the Tikao Maya site.
Belize City, which is a major commercial center, is also just an hour and a half away from San Ignacio, so San Ignacio and the Cayo District are very strategically located. It is also much safer in San Ignacio when there is a hurricane than it is in the coastal areas. Most people evacuate from the coast to San Ignacio when there is a hurricane.
The river that runs through the middle of San Ignacio that divides the town in half is called the Macal River. A mile north the Macal River joins with another river to form the Belize River in an area called Branch Mouth River. There are some pretty well-known caves in Cayo like the Chechemha Caves, which are about a 30 minute drive from San Ignacio, where they are known for their Mayan pots. There are also pots and altars inside that show that there has been a lot of Mayan activity in this area. Then the Rio Frio Cave is up in the Pine Ridge Mountains and has a river that runs right through so you can walk through the cave. It's very big and a very beautiful cave.
The closest beach you could get to from San Ignacio would be around Belize City. Hopkins also has nice beaches that are about two hours away from San Ignacio by car.
In my opinion, the worst thing about living in San Ignacio is the road that connects San Ignacio to Belmopan, the capital city of Belize. It is not in the best condition. It is paved but it has a lot of speed bumps and it's narrow.
Another worst thing about living in San Ignacio is that you cannot get everything that you are used to getting back home. When you are at the grocery store, your selection is limited. There is no wide selection of cereal or coffee, which people in North America are used to.
The other thing that is bad about Belize is the Internet connection. It is expensive and it's not high quality.
Posted July 23, 2015