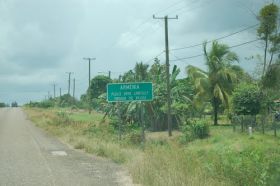 Majority of the doctors in the Cayo district are English speaking. There are some Cuban doctors and they speak some English but not fluently. They would explain themselves in a way that a patient could understand what they were saying. My mom works at the hospital, so I'm pretty familiar with the ins and outs. If you see a doctor here in Cayo, you would understand what they are saying and if you can't, there's somebody at the hospital that would translate for you.
Some doctors might not speak English fluently but that would be the only reason that you might not be able to understand. The majority of the doctors can speak English fluently. The staff speaks English fluently as well.
English is the official language of Belize. That's the language that is taught in school and business is conducted in English.
(Mopan and K'ekchi Maya people immigrated to Armenia, Belize from southern Belize in order to have better access to health care. Sign for Armenia,Cayo District, Belize, pictured.)
Posted August 16, 2015