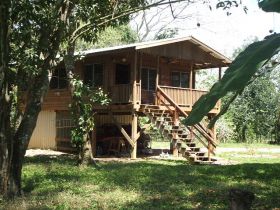 I'm not sure what the crime rate is, but yes, Cayo is very safe. I've never had a problem here and I've been living here all my life. I could go out and walk the streets at night and not have anybody mess with me. I feel very safe walking around and just living here. Even as a young woman, I'm not concerned walking by myself at night.
Houses here in Cayo have bars on the windows and doors. It is also very common to have dogs and outdoor lights just as an added form of security. Sometimes it's not only for security, it's just a Central American thing. They don't just have a regular burglar bars, but they would have those fancy ones so it's not only for security. Instead, they want to be just fancy because everybody has it. I don't have any burglar bars on my house and I have glass windows. I don't have any fence and I still feel safe.
Even expats here in Cayo do not necessarily live in gated and guarded communities. There are a couple of gated communities, but many of expats living in Belize live amongst locals. Some of them do have security cameras but not many of them. Most of the expats who live in the Cayo district want to live as locals. They try to fit in.
(Wooden house on acre of land near San Ignacio, Belize, pictured.)
Posted August 13, 2015