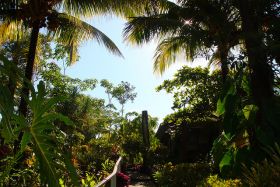 If you're renting, you can get a 2-bedroom bungalow house in the Cayo District for around BZ $500 (US $250) monthly. It can either be a concrete structure or a wooden structure. The actual rate would vary basing on the location. The closer to town the higher the rate would be. On the outskirts of town it would be cheaper. The price I quoted is in the middle. You can probably get semi-furnished but most of the homes are rented without any furnishings. Utilities are not included.
We have a lot of local farmers who provide very reasonable priced food and specifically vegetables. Depending on your needs, a rough estimate would be around BZ $500 (US $250) for food and groceries a month for a couple.
Utility bills are fairly low in Cayo compared to other regions nearby. The minimum for a month for a thousand gallons of water is BZ $8.75 (US $4.38); that's not only in Cayo but it's countrywide. The price for electricity was just reduced 10%. The cost for electricity fluctuates because a lot of it is based on the price charged by Mexico, which is one of our providers. We're currently looking at alternative means of obtaining electricity; more green, effective, and using more solar power, so this is going to bring some reduction in electricity rates in the near future.
The cost for telephone is very affordable. We have two telephone companies: Belize Telecommunication Limited and SMART. They both have good plans. You can have family plans, individual plans, and you can have the prepaid plan as well and they always offer "double-up" or "triple-up" opportunities on a monthly basis. For example, on the double-up, if you pay $10 they give you $10 in addition to what you purchased. On the triple-up, if you buy $50 they're going to give $150 to use. In order to compare the rates to call, it is cheaper to call from Belize to the US than from the US to Belize.
There are various Internet service provider plans available. We have 512 MB for a month which would cost roughly BZ $70 (US $35) monthly. That would be the lowest but they go all the way up to 8 MB, which would be the highest bandwidth.
A typical American-type couple would be comfortable living in Cayo on BZ $3,000 (US $1,500) a month, and would lead a middle to upper income lifestyle. They would be able to afford plenty of extracurricular activities and they would be able to eat fairly well. They would be able to have a car, and even though it would be a little tight, they may even be able to afford a live-in housekeeper. Certainly, they would be able to afford a housekeeper once a week.
(House in Belizean jungle, pictured.)
Posted August 28, 2015