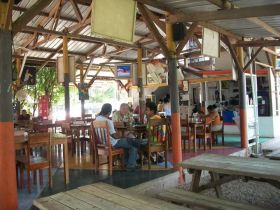 If you go to inexpensive restaurants here in Cayo, you would pay about US $3 for a local place of rice and beans with chicken or pork or beef. You can also get even more local food like empanada, which costs three for 50 cents. If you eat $3 worth of empanadas, you're full, if you're not a big eater.
For a salad in a nice restaurant you would pay about $5 to $8, depending on what kind of salad you get. We have a huge variety of restaurants in San Ignacio in the Cayo district. Where you eat and how much you will spend all depends on what you want; we have it.
You could go out with three or four people and you'll pay about $12.50 for the three of you to have a meal, depending on the restaurant, while compared to the US, if there are three of you going out, you'd pay about $50. Compared to the US, eating out here in Cayo is cheaper by about half or more.
(Benny's Kitchen, Cayo District, Belize, pictured.)
Posted August 15, 2015