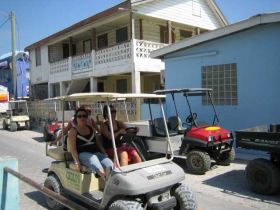 Ambergris Caye is most definitely cheaper than some of the other Caribbean Islands. Compared to places like Saint Barthelemy, The Cayman Islands, and Barbados, Belize is absolutely a deal.

Belize is an English-speaking, Commonwealth country where the prices are not to the level of these other Caribbean nations yet. It is not as inexpensive as its neighboring countries such as Guatemala, Honduras and El Salvador; living in those places would be less expensive. However, those places are not as nice as Belize. They do not have the Caribbean feel.

As a point of reference for North Americans, Ambergris Caye is less expensive than Vancouver and Toronto, Canada, where I come from.

The cost to rent a house or apartment here in Ambergris Caye is at par with Vancouver rentals, but the cost to buy a house or apartment is considerably less.

The cost for car insurance and related items in Ambergris Caye is minimal compared to what we pay in Vancouver or Toronto. They use golf carts here as transportation. Gas is more expensive but the golf cart does not use nearly the same amount of fuel as a car so getting around town in your own transportation is considerably less expensive than in North America.

The cost of food in Ambergris Caye unfortunately, is rather high, because we live on an island that is pretty much tourist- oriented, so you are not going to get a lot of variation on food cost. Medical and dental expenses are much less expensive in Belize than in North America.
Posted December 02, 2014