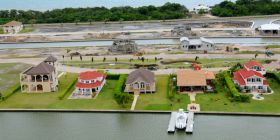 You can buy a home or condo in Placencia starting from US $100,000 up to a few million dollars. In our project, homes generally start at around $500,000. The starting price for a one-bedroom condo unit is around $300,000 and a two-bedroom condo unit starts at around $500,000.
Our projects are of very high quality and are part of a gated, master planned community with 24-hour security and full resort amenities. If one wanted to be in the village, and not directly on the water, you can buy a home or a condo for around $100,000 to $200,000. People coming from the US could get a summer home of decent quality for that price.
When we build houses in Placencia, there are permits that need to be pulled and inspections that are done. If you are building your home from scratch, you have to make a decision on whether you want concrete, rebar, or if you want just wood. It is like anywhere else. You can build probably anywhere from $110 per square foot to $175 per square foot, which is where we are. At $175 per square foot, you would be building using concrete, rebar, granite, travertine, and marble. Depending on what one wants, the price point is still a lot cheaper than most of the US.
For a budget of $150,000 you can get a house on a lagoon on the golf course area called The Panther. You would get a three-bedroom, two-bathroom house that is around 2,000 square feet with a garage, overlooking the golf course or the lagoon. We also have homes on the canal side close to the ocean but those houses cost a bit more than the ones on the lagoon side. For $500,000, you could get a beautiful two-bedroom, two-bathroom condo that is within a minute from the ocean. You could get a one-bedroom, one-bathroom condo costing between $200,000 and $300,000 that would be a two-minute walk away from the beach.
What makes our projects worth the higher price is several factors. The first one is the location. Most of our projects are right off the water. The second factor is who builds these projects. We are the largest builder-developer in the country of Belize and we build to Miami Broward Building Code, which is the highest construction code in terms of quality and strength. The third factor that makes our projects worth it for the end user is everything else we are building. For example, we are building an international airport, which should be complete in roughly one more year. The airport alone makes buying in The Placencia a very good investment because as soon as the first plane lands, land values in our projects will go up significantly.
Overall, what makes it worth it to invest in our projects is the location, the quality of construction, and the fact that we have an international airport 15 minutes away from their home or condo as well as golf, and water activities. Our projects are located about 45 minutes away from zip lining activities, mountains, and Mayan ruin sites. Our casino is about to open very soon as well. Every time you add an amenity, whether it is a casino, a golf course, etc., you are adding value to your home.
(Homes in the upscale planned community of The Placencia, Placencia, Belize, pictured.)
Posted January 22, 2016