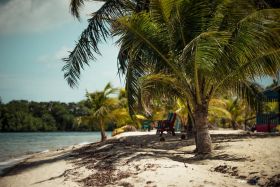 I loved living in Placencia. I became a mom in this village. My kids grew up here with absolutely no stress. They got everything they wanted, which is very good. I moved out of Placencia because my kids needed to go to school and the quality of education in Placencia is too low. I found that we needed something more than what the schools in Placencia offer. But if you are going to Placencia for retirement, it's a great place to be because you will have no stress. The bars, restaurants, and the beaches in Placencia are very nice.
My typical day in Placencia was not like everyone else's because I was still working to attract tourists and retirees. It would be hard for me to live in Placencia without a job because it is too relaxed. You can swim in the sea, walk your dog, talk to the neighbors, run to a club, go to a bar, drink rum, etc.
In the winter, days are shorter so we wake up early and go to bed early. Many people who are retired at 3 PM you go to a bar, at 4 PM go back home, then have a nice dinner, and by 8 or 9 PM, they will be asleep. Placencia is an extremely relaxed place, so if you are a person who likes that then you will like Placencia. But if you need a little more excitement, then Placencia might not be the place for you. I say the same thing to my clients. I try to find out what they like.
A funny example was when one my clients, a gentleman, said he wanted to feel the sea, and he had a green thumb. As soon as he told me that, I told him that a better place for him would be Corozal or San Ignacio because in Placencia, you are going to have a stroke over trying to grow tomatoes or any plants because it is very salty in Placencia and the soil is purely sand. Placencia is just a little above sea level. If you take a shovel and start digging, it wouldn't take long for you to see water.
What it's like to live in Placencia really depends on what a person does. If you are a painter, go to Placencia. If you like to relax and meet a lot of expats, go to Placencia. Shopping is still dicey. You just have to drive 3 hours to get to Belize City or you can go to Mexico but if you feel you need these types of businesses around you, well, they do not exist in Placencia. Placencia is composed of a lot of houses, bars, and restaurants. That, and the beautiful scenery and lifestyle is what we have to offer to tourists and residents. If you are going to live in Placencia long term as a resident (as opposed to just being a tourist), you won't go on a tour every day.
Posted June 16, 2015