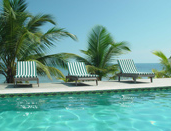 The entire Placencia peninsula has completely changed. From north down to south, Placencia has undergone huge development, perhaps more so than anywhere else in the entire country of Belize. The development is very big all the way up north to the Placencia Hotel and it continues as you go down the peninsula going south.
The development was so fast that it has changed a lot in less than 10 years. 10 years ago, the development was only in the north but now it goes further down to the rest of the peninsula. There are huge developments in real estate and there are now about 4 or 5 new condo buildings in Placencia. There are many new real estate developments in Placencia. We are now pre-selling properties here. You can buy a condo before the building is even started. Placencia is developing very fast and high.
There are a lot of villas in the northern part of Placencia and that area is being developed. There are two huge buildings but they had some finance trouble. There were some legal issues and they are now not finished. When you go further down south, there is a long two-level condo, which keeps on growing. There is another private villa in that same area.
The developments in Placencia are all different. The land is cheap for the people who bought the land a while ago and many of the developments are less than 10 years old.
If you go to Maya Beach in particular, there are so many gorgeous houses, many of which are for sale. It's just that the owners are very picky. A lot of those people now want to sell because they believe they can get high prices for their homes.
(Pictured: pool overlooking the sea in Placencia.)
Posted June 27, 2015