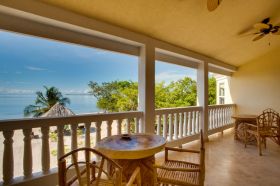 The best thing about living in Placencia is the location. There is a direct flight from Belize to Dallas and numerous other major cites in the US like Houston, Los Angeles, Miami, Atlanta and more with the flight from Dallas to Belize being just 3 hours. Placencia is a tropical paradise with amazing views. The trade winds cool the entire peninsula. There is great scenery. The jungle is just right up the road within 30 minutes. There are a lot of different activities that you can do.
I view Placencia as a nice place to recharge and relax. You can make it as fun as you want it to be or as relaxing as you want it to be. Placencia offers what I think is the best place in Belize to access and enjoy all that Belize has to offer, not only the reef and beach activities but the many inland jungle and rainforest adventures, many of which in area that are almost completely untouched and not commercialized.
From a retirement standpoint, what's best about Placencia is that it is an English-speaking place, it's safe, taxes are low, and it is a very foreigner-friendly place. There are a lot of Americans, Canadians, and Europeans in Placencia. It's a very fast growing market.
The downside to retiring in Placencia is that everything moves slower. If your air-conditioner breaks in the US, you can have someone to fix it within an hour or two. If that happens to you in Placencia, if you don't have an on-site maintenance guy, it could take 8 hours before you get someone to fix it for you. The Internet is slower. Cellphone coverage is a bit worse. Those are small things, but in general, those are just small tweaks and things that are improving every day.
(Caribbean view home in Placencia, Belize, pictured.)
Posted February 13, 2016