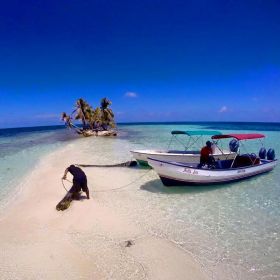 Yes, Placencia is a pretty safe place. Belize, in general, is a pretty safe country. Placencia is not over-populated, which adds to its safety. Also adding to its safety is that Placencia is a peninsula, with basically just one road in and out.
The majority of Belizeans who work in Placencia work in the service-based industries, such as airline service, construction, real estate, and tourism services. The dependence on these types of businesses provides incentives for everyone to provide a safe area for all people who come to Placencia because the safer Placencia is, the more business comes to Placencia.
In general, I've always felt safe in Placencia, but like any other place, there are some areas that you wouldn't want to go to late at night and as with anywhere there are certain types of activities and people to avoid.
In general be conscious of your surroundings and actions and you should not have any problems.
(A sandy beach near Placencia, Belize, pictured.)
Posted February 17, 2016