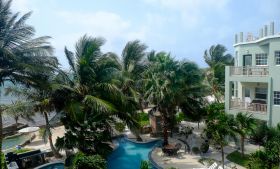 In Ambergris Caye, you can get a very basic one bedroom apartment from US $100,000 to $200,000 for a 600 square foot unit or smaller. The price moves on out from there depending on the amenities, the size of the resort, and the quality and history of the resort. You can also buy properties well into the million dollar range.
Typically, a small condo or a studio, like a small hotel room with a small kitchenette, ranges from $100,000 to $250,000 for units as large as 1,500 square feet. For a budget of $100,000, you would typically get just a room in a development that probably doesn't have a lot of amenities or located in the area of the island that is less accessible and less frequently visited or it could be an older building. For a budget of $250,000, you could get a one-bedroom or a two-bedroom apartment in a building with not a lot of amenities. Amenities are what typically drive up property value. If there is a restaurant, a pool, a gym, or if you are beachfront then it would cost more.
For a three-bedroom, two-bathroom, 2,000 square foot home, if you are purchasing the land that is not beachfront but in a good developed area, typically, would cost around $150,000 to $250,000 for the land. To build a home is very similar to prices in North America. Materials cost more here in Ambergris Caye but labor costs less so in the end, it balances out to be typically the same as what you are looking at in North America. You could, in theory, buy a 50 by 70 piece of land that is off the beach and build a 2,000 square foot home on it for less than $300,000, all-in.
The condos have established rental programs in place already so they are income generators, which is why their prices tend to be higher because most people do not tend to live in their units full time. Some people come down here for 6 months at a time and they rent the unit out for another 6 months. There are usually additional costs that are associated with it as opposed to owning a private property yourself.
(Condo walking distance to bars and restaurants in San Pedro, Ambergris Caye, Belize, pictured.)
Posted November 30, 2015