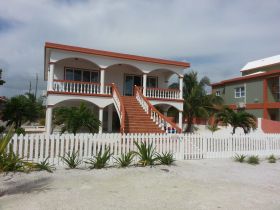 The cost to build quality, concrete construction in Ambergris Caye, depending on the location, ranges from about US $100 to $200 per square foot, without the land.
If you are in an area of Ambergris Caye where you could only bring in goods via boat, it is going to add a little bit to the cost as opposed to a place where people can drive and drop off things.
The other element is the type of foundation. Most people here do piles to bedrock and concrete pier and beam construction. If you are doing something other than that like a floating foundation, you may be able to reduce the cost but there is very little of that done here in Ambergris Caye because there are only a few areas on the island that would lend itself to that type of construction.
For a 2,000 square foot house, you can count on around $200,000 to $400,000 to build it to high-end American standards. You would get granite countertops, hardwood floors or tile. Most people use tiles in Ambergris Caye. They have some tongue and groove work on the ceiling. You would generally have a poured concrete roof because that is the standard that most people are using here now. You would have quality light fixtures and plumbing fixtures. Most of the homes that they are building here on Ambergris Caye now are well above the standards that most people have in the US, where you can just put up a home with a brick facade. Here, you are going to have concrete blocks and poured concrete and things of that nature that it would take an Act of God literally to do any kind of damage.
People nowadays are also installing either impact windows or they are building built-in roll down hurricane shutters. They do that because of the threat of hurricanes since we live in the Caribbean here so it is always an issue and something that you should always keep in mind. Hurricane shutters also provide additional security for those homes (and there are a lot of them) left vacant for a good portion of the year.
(Beachfront home in Ambergris Caye, Belize, pictured.)
Posted November 01, 2015