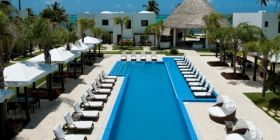 The construction standards in Ambergris Caye are not the same as you would expect in North America. Living in Ambergris Caye is like living in the present and 30 years ago at the exact same time. Some construction methods here are still what some people in North America would call primitive. They do bucket brigades for pouring cement still as opposed to using the more modern methods, but they are very knowledgeable. They have lots of experience and they know how to get the job done well.
If you hire the right contractor, you would really get good service. The condo developments, in the end, have the same building quality as the ones you would see in North America just because this is a hurricane zone. Most buildings are built with reinforced concrete, form by form. The construction is done form by form as opposed to using cinder block with rebar and then pouring concrete. Some people do that but in other places they do forms and then pour the concrete. As a result, in the end, you would find the same building quality we the one you see in North America. It doesn't look like it when they are still building it just because they are more old fashioned than what we are used to.
With regard to getting permits, it is a bit more libertarian approach. When you buy a property and you have a title, the main restriction is height. At this point, nothing over five stories can be built anywhere here in San Pedro or Ambergris Caye but outside of that, getting approval and building permits is generally pretty easy, but there is a requirement for it. You can hire someone to do the building inspections for you and do it properly but building inspecting is not typically done in the way that we are used to in North America.
There are companies in Ambergris Caye that can do home inspections. I always urge my clients to do that when they are purchasing property unless it comes from a development that has everything above board and you can see everything first hand and you feel a lot more secure with it. Especially when it comes to individual homes, I always implore my clients to get a home inspection done regardless if the building that they are buying is old or newly built. That is for their peace of mind so that they know what they are getting into.
(Las Terrazas resort and Residences, Ambergris Caye, Belize, pictured.)
Posted November 28, 2015