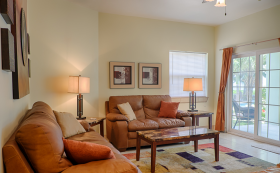 The weather in Ambergris Caye is very consistent. Throughout the year it is about 80 degrees Fahrenheit (29 degrees Celsius). The fluctuations of the weather is around 20 degrees in Fahrenheit or 10 to 15 degrees in Celsius over the course of the year from the coldest to the hottest.
Ambergris Caye is surrounded by a copious amount of salt water so we do get humidity but we also get a great ocean breeze that is fairly consistent. The breeze provides natural air-conditioning to the island. Humidity here generally runs from 80% to 100% humidity. On some days we have even had as low as 50% humidity. Humidity is definitely something that exists here along with the beautiful sea breezes.
Most people who come from North America, tend to use their air-conditioning a lot when they first arrive here in Ambergris Caye. But once you have been here for approximately 6 to 8 months, the air-conditioning stops becoming much of a factor. Typically, most people use it at night to sleep and just enjoy the sea breezes during the day. I only use my air-conditioning at night to sleep. I live on the ground floor of a fixed unit condo building.
(First floor condo in Ambergris Caye, Belize, pictured.)
Posted November 27, 2015