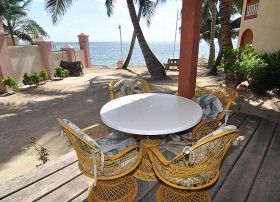 There are no earthquakes here in Ambergris Caye. Fire can happen anywhere but we don't have forest fires like the ones that happen in places like California or Northern BC (British Columbia, Canada).
We are in a zone where we can get hurricanes but they are less frequent than in many other places within the Caribbean. The last major hurricane that hit Belize was in 2001. We get less hurricanes than the rest of the Caribbean because where Belize is situated gives less opportunity for hurricanes to form. They tend to form out in the middle of the Atlantic and then progress westward and then northward, and Ambergris Caye is in neither of those places.
We have had some tropical depressions and hurricanes do occur and can happen in Ambergris Caye but the insurance companies here do offer hurricane insurance. If your property gets wiped out and you have the right insurance, they just write you a check to replace it. Hurricane insurance premiums are quite affordable compared to what people are used to in North America. If you have a 2,000 square foot apartment and you have hurricane insurance you would be looking to pay maybe 1% of the value of your property on an annual basis for full comprehensive insurance. Generally speaking, most apartment buildings have their own insurance and as an apartment unit owner, you would have your insurance as well on top of that. So your insurance covers your unit and there is also the building insurance that covers the entire development. If you owned an individual property and had a free standing home, you would pay 1.5% of your property value in annual premiums for insurance. If your house were to get completely flooded or knocked over they would cut you a check to rebuild it.
Hurricanes are not a day-to-day concern for people in Ambergris Caye. Hurricane season usually lasts only from June to November. Because of the infrequency of the hurricanes that have occurred here, it is a minimal concern to me. But of course it is a concern in general, so we pay attention to weather reports and forecasts and if we see something that looks like trouble, then we prepare accordingly.
(Veranda of first story condo on the beach in Ambergris Caye, Belize, pictured.)
Posted November 25, 2015