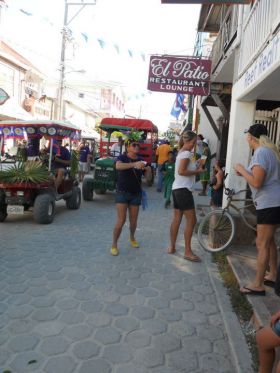 There are only two ways to get to Ambergris Caye: one is by a puddle jumper flight (a small, 14-passenger plane), and another is by boat, also called the water taxi.
A puddle jumper flight can take you from Belize City or from Corozal to San Pedro in 15 minutes. The boat or water taxi can take you to San Pedro (the main town on Ambergris Caye) from Belize City or Corozal within an hour and a half.
The best way to get around Ambergris Caye is either by golf cart or by bicycle. There aren't a lot of cars in Ambergris Caye because Ambergris Caye is a bit too small and is getting congested with traffic, so the government is not granting permits for bigger vehicles, which are necessary if you want to have a vehicle in Ambergris Caye.
It's very nice to drive around in San Pedro. In San Pedro, there aren't a lot of one way streets, and the streets are easy to be familiar with. With only three main streets in San Pedro, you cannot get lost. If you go too far in one direction, you're going to hit the sea anyway so you've hit the end.
San Pedro is a small place. It will take you from one end of San Pedro to the other about 25 minutes in your golf cart, and from the center of the town of San Pedro going north to the end of the island is going to take about one hour and a half in your golf cart.
(Decorated golf carts on parade in San Pedro, Ambergris Caye, Belize, pictured.)
Posted April 07, 2017