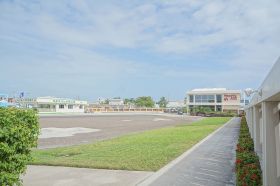 There is little domestic airport in Ambergris Caye. There's no international flight anywhere in the country other than into and out of Belize City. You can go anywhere in Belize by domestic plane because they fly to all the major towns. The planes in Ambergris Caye are more of an air taxi, which is how I think of it. You can travel off to the big cities in Belize. They fly to Caye Caulker,
Dangriga
and Punta
Gorda
, among others. They now have regional flights, too.
Once you get to Belize City and you want to fly out, you can fly to Roatan, Guatemala City, Cancun Mexico, San Pedro in Honduras, etc. You can fly regionally quite easily out of the International Airport as well.
If you need to fly to Miami, you have to fly an International Caribbean, United, USAir or TACA for that. If you are from the US and you want to fly to Belize, you would need to get yourself an International flight with American Airlines, USAir, United, TACA, and fly into Belize City. The major gateways for Belize from the US include Charlotte, Atlanta, Miami, Houston and LA. Those are all direct flights. Delta just announced direct flights from LA to Belize City. It is pretty good. The tourist demand is there.
Posted December 02, 2014