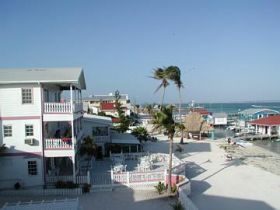 The taxis are pretty readily available here in Ambergris Caye. Also, taxi drivers give out their number so you could easily call them and they are very nice and friendly.
My sister met a taxi driver when she was visiting from school and told the driver that she was new to Ambergris Caye. When he heard this, he gave my sister a little tour of San Pedro and then he took her to her hotel, which was very nice.
Taxis are very cheap here in Ambergris Caye that it only costs a few dollars to get from one place to another. You don't have to haggle with them ahead of time since they are very fair, which is very nice.
(Seaside balcony views from San Pedro, Ambergris Caye, Belize, pictured.)
Posted July 06, 2015