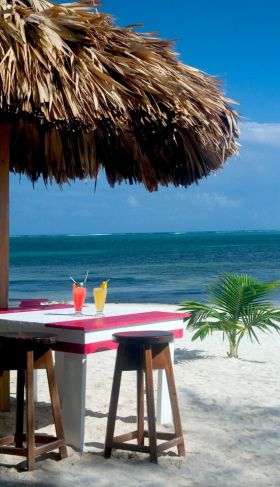 The restaurants in Ambergris Caye are really nice, with the nicer restaurants having prices here pretty much the same as the prices that you would pay in the States. All the places that I've been in Latin America have been a lot cheaper so I wasn't necessarily expecting that the prices in Ambergris Caye would be the same as in the States.
The restaurants here are good quality and they serve fresh food from Belize. You know that the food didn't come from China and it hasn't sat on a boat for two weeks. All the tortillas that the restaurants here in Ambergris Caye use are all freshly made that same day, which is very nice. The restaurants here serve all fresh food
There are cheaper restaurants that serve local food. For US $3, you could get a nice meal with rice and beans, cabbage, and cheese. You could also get a huge breakfast burrito for $2.50.
Just recently I went to a resort at the north part of the island that has their local favorite with local prices. They have this burrito with corn tortilla with cabbage and lime slaw with some fresh tomatoes for only $3. It was a great price and they are absolutely delicious.
If you choose to and if you don't go to the touristy places, you can eat less expensively than you would in the US.
(Pictured: palapa on Ambergris Caye.)
Posted June 20, 2015