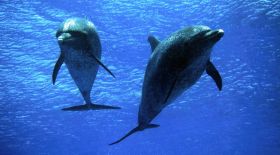 Ambergris Caye is famous for its diving, and rightfully so. It's breathtaking.
I've gone diving in Southeast Asia, and even so, Belize is my favorite place to dive. I have dive pictures that I took myself that are absolutely gorgeous, just like what you would see on websites or on National Geographic magazines. The corals are so beautiful.
Even just free swimming off the dock here the other day in between the reef and the shore, I saw a bright pink, giant starfish. I've never seen anything that large or that bright before. So you could just imagine how beautiful the actual reef is. You will also see stingrays blending in with the sea grass, just swimming out from shore, not even snorkeling or diving.
(Pictured: Ambergris Caye dolphins in the wild.)
Posted June 22, 2015