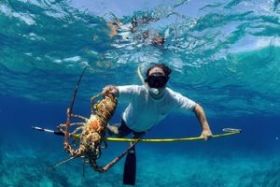 A "holiday" in Ambergris Caye is when you get a day off of work. "Celebrations" are days when, as a community, we celebrate something that we did. We have a Township Day. We take a day off and it's a national celebration since it's something that we really take pride in because that is the day when Ambergris Caye was no longer a village, but a town. That's why we take pride in it and we come as a community to celebrate Township Day. This is just in Ambergris Caye. You are going to see a lot of people come out and celebrate.
In the month of June, we celebrate Dia de San Pedro, which is Saint Peter's Day. That is when the whole community comes together and there are fireworks, there is a party, and most people here promote because it is a huge thing for us. It is our saint's day. I am in the dance company from here for almost 8 years and we do shows on that day. It's pretty festive.
Then there is Lobster Fest in July. That is one of the big things. It celebrates the opening of the lobster season. The restaurants here do a block party and they make lobster pizza, lobster ceviche, lobster tacos, lobster ice cream, and a lot of other things that can use lobster. That's something we look forward to because lobster was how we got on the map of tourism. My grandfather used to be a fisherman and my dad used to be a fisherman as well until he became a dive master. People know that Belizeans are fishermen, they know that we have fish, and that's how we got recognized in the tourism industry.
Then we have Costa Maya, which is an international festival that we have almost every year. Guatemala, Mexico, Honduras, and I think Panama and Nicaragua as well, hold a pageant similar to Miss Universe. People from these countries come here and compete in the pageant. It's a 4-day celebration and we have different kinds of shows. It starts on a Thursday, which is the pageant and you have to pay for it. On Friday, international dance companies come here. On Saturday, an international artist comes here to perform. And Sunday is the huge beach party. This is celebrated on the first week of August. It's a big celebration. Not only do we get people from other countries coming over but Belizeans come back home from the States and Belizeans from the mainland come here to celebrate.
(Fishing for lobster at the start of the season for Lobster Fest, pictured.)
Posted May 27, 2015