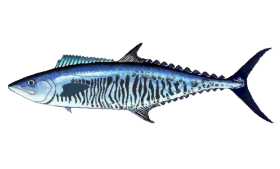 In Ambergris Caye, we have the famous Wahoo Competition which is held here in San Pedro (the main town in Ambergris Caye) every March. A wahoo is a kind of fish, and during the Wahoo Competition, the fishermen participate in groups to catch the most number of wahoo fish. At the end of the competition, the teams of fishermen gather in the main dock in San Pedro to have their wahoo catch weighed. The group with the most catch or the group who has caught the biggest wahoo wins US $5,000 to $7,000 worth of prizes.
A lot of people from different parts of Mexico and from all over the world come to Ambergris Caye for the Wahoo Competition.
Another tradition we have here in Ambergris Caye is the Juan Carnaval Festival which is celebrated from the 21st to last day of February. Juan Carnaval is an old tradition here in San Pedro. During the Juan Carnaval festival, participants form different comparsas (a group of 15 persons), dress up in costumes of funny characters and go dancing to Spanish music in the streets of San Pedro where the public pays them to dance.
During the festival, men dress like women and women dress like men, and they paint their bodies to make themselves look funny. The Juan Carnaval Festival is a three-day event. On the third day of the festival, which is usually a Tuesday, participants burn a big doll that they've created to represent Juan Carnaval. There is a lot of alcohol involved during the Juan Carnaval Festival in Ambergris Caye.
We also have the annual Costa Maya which is a four-day activity that takes place here in San Pedro on the first week of August every year. The Costa Maya is like a beauty pageant where young ladies from Central America participate and one of them is selected as queen to represent the Mayan festivity. The Costa Maya participants are not just from Belize; they're from all Central American countries and also Mexico.
On the first day of the Costa Maya, they select the queen of the event, and on the following night we have what we call the "Noche International" which means "International Night". During the Noche International, artists from other parts of the world come and perform. For example, we'll have singers and dancers from Mexico, Jamaica, and Belize performing in San Pedro.
Halloween is an event that is celebrated at the end of October. Holiday Hotel usually holds the Halloween event where people can go dressed like witches, funny characters, a pumpkin, etc. At the end of the day, the judges choose the ugliest character and grant him a prize.
[Wahoo (Acanthocybium solandri), pictured.]
Posted February 15, 2017